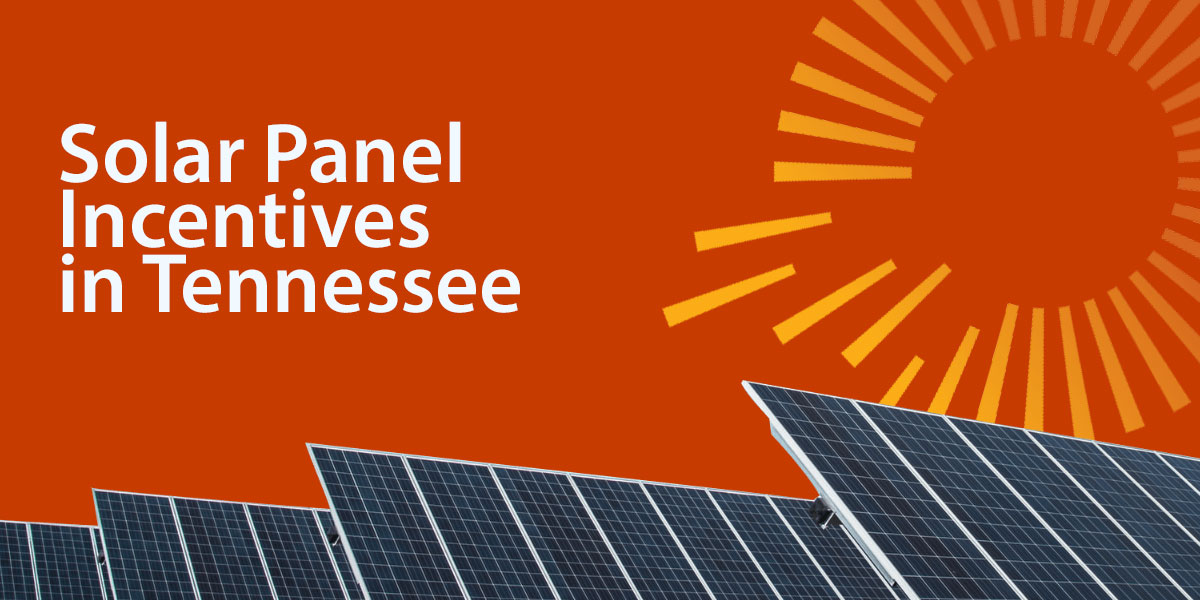 Last Updated on January 23, 2023 by Anne Brock
As solar panels become increasingly accessible and affordable, it may be time for you to invest in them for your home or business. Solar power uses clean energy from the sun, so installing solar panels on your home will help reduce greenhouse gases and other harmful emissions, lower or even eliminate your energy bills, and give you the chance to earn tax credits and rebates.
Tennessee is a great state for solar power because of its nice weather. This area has more sunny days than most states, so Tennessee residents can acquire a greater amount of solar energy and will experience fewer cloudy days. This higher chance of sun means that solar-powered homes will have adequate energy throughout the year.
The Solar Energy Industries Association (SEIA) monitors solar power regulations and supports programs to facilitate the development of the solar industry. There are tax codes and credits that can help support the cost of switching to solar power. Here is a look at incentives in Tennessee, via a state resource page.
If you install solar panels and take advantage of clean energy programs in the state and federal options, which are often more beneficial, you will see a return in your investment (ROI) through both the savings on your electric bill and the financial incentives available to you.
Residential Solar Power Incentives in Tennessee
On top of the environmental impacts and opportunities to save money, state incentives make residential solar power an attractive option. Although each state offers different incentives and rebates, solar panels are a worthwhile investment for your home that will save you money in the long run. Here are some of the residential solar power incentives in Tennessee:
Green Energy Property Tax Assessment
Tennessee offers a property tax assessment for certified green energy that is proportionate to the facility's value. For solar panels, the incentive has a maximum return of 12.5% of the initial installed cost. Simply put, your property appraisal will tell you the worth of the facility based on the clean energy technology and the energy produced, giving you a return on a percentage of its deemed worth. To get this certification, you can't install a battery with your solar system.
Federal Solar Investment Tax Credit
This incentive is a federal one, meaning that you can receive it regardless of the state you live in. The federal solar investment tax credit (ITC) returns up to a certain percentage of your solar panel purchase, reducing the cost.
Currently the ITC for solar panel systems has increased to 30%. The percentage off is for the entire cost of the system, including the flat rate of the solar panel equipment, labor costs and permit requirements.
Sales Tax Exemptions
When purchasing a solar panel system to install in Tennessee, it is exempt from all sales tax. Depending on the sales tax where you reside, this exemption can reduce the starting cost by about 7%.
Dispersed Power Production Program
Tennessee currently doesn't have a net metering program where utility companies credit solar energy system owners for the electricity they do not use and instead add to the grid. However, the Tennessee Valley Authority (TVA) offers a similar program but with less of a return.
While not exactly net metering, this TVA solar incentive allows residential customers to earn money from any unused renewable energy they produce, which the TVA buys. The TVA sets its rates annually and offers five-year agreements. Since this program costs homeowners more to participate than it awards, we don't recommend choosing this option.
Manufacturer Rebates
Although Tennessee does not offer rebates from the state for solar panel installations, they do not prohibit manufacturers from offering rebates. You can look for a solar energy system that has discounts or money-back incentives.
Commercial Tennessee Solar Incentives
There are also benefits directed toward commercial businesses installing solar panels. Some of the commercial solar power incentives in Tennessee include:
Green Energy Property Tax Assessment
The Green Energy Property Tax Assessment works in the same way for multiple facility sectors, including residential, commercial, industrial and municipal utilities. While this solar power tax incentive amount depends on the building's sector, it has a maximum of 12.5% of the installation cost.
Sales Tax Credit for Clean Energy Technology
Sales tax is Tennessee's primary source of state tax revenue. Use tax, the counterpart to sales tax, is what the state requires you to pay when the seller doesn't collect the sales tax or you have other taxable items shipped from out of state. However, clean energy technology is exempt from these taxes.
If your company wants to install solar energy equipment, you, along with your solar panel contractor, must file a tax-exempt application to become a certified green energy production facility, which will reduce the tax cost of your installation to zero.
United States Department of Agriculture Rural Energy for America Program Grants
The U.S. Department of Agriculture (USDA) offers financial incentive grant programs and loans to encourage commercial and agricultural businesses to implement renewable energy systems into their facilities. Their Rural Energy for America Program (REAP) provides this financial aid to eligible businesses and projects.
As of the 2018 fiscal year, the USDA had a budget of $600 million, allowing them to offer renewable solar panel grants between $2,500 and $500,000, efficiency grants of $1,500 to $250,000, and a loan and grant combination with an amount exceeding $1,500 for the grant portion. The maximum incentive you can receive within this range is 25% of the total project cost and is anticipated to increase in the near future to 50% of allowable project costs per updated federal programs.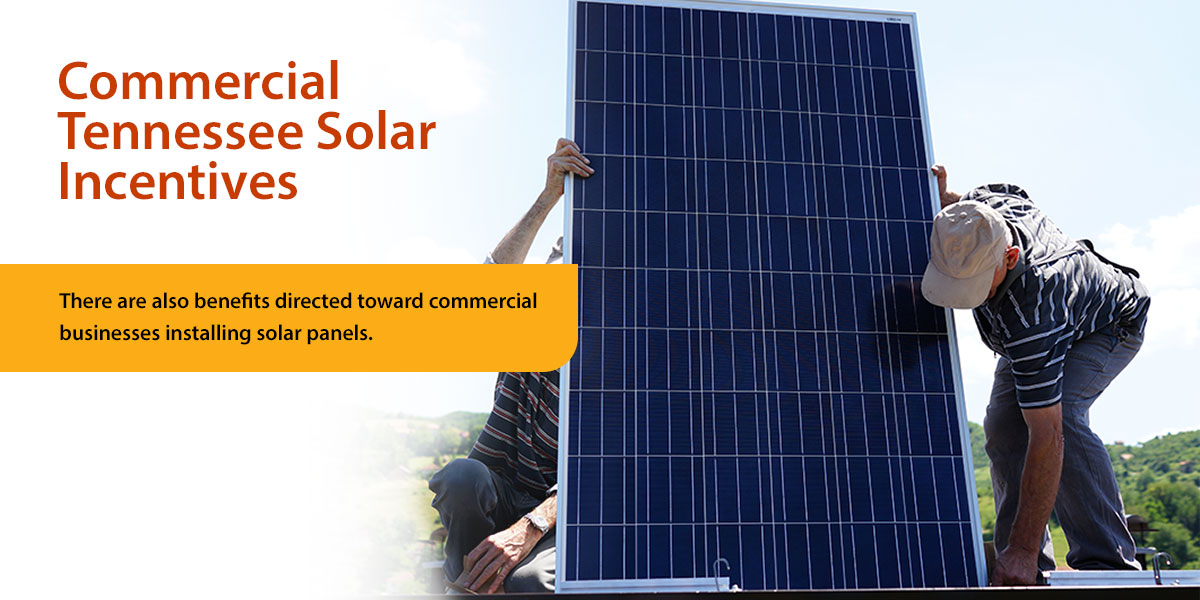 Cost of Solar Panels After Tennessee Incentives
These incentives and rebates can help you exponentially reduce the cost of your solar panel installation. Because of the increasing need for green energy and renewable resources, many state and federal resources exist to aid in the transition from traditional electric to solar panels.
For example, if you plan to install a $15,000 solar panel system on your residential home, you won't have to pay sales tax because it's green energy equipment. Then, qualifying for the federal solar investment tax credit, you can get 30% back, significantly reducing your overall cost.
Between these incentives and any additional rebates or programs you elect to participate in, you significantly reduce the overall cost of your solar panel installation. These panels can pay off themselves in about seven to 20 years and enable you to profit, helping you earn money in a way that also conserves the environment.
Since Tennessee does not implement net metering, there is a need for systems designed for profitability rather than all-out performance. Paying attention to these details allows for a cost-effective system. If you live in Knoxville, Tennessee, we can provide you with a profitable system to produce power for your home.
Get Started With Solar Power
If installing solar panels on your home or business seems like the right thing for you, check out Solar Alliance. Serving the southeastern United States, we are happy to help you with any of your commercial, industrial and residential solar needs.
At Solar Alliance, we take pride in being a fully licensed solar energy company that you can trust. We offer affordable pricing to give you the best value on your solar panel system. Our top priorities are helping you save money, increasing your property value and providing you with eco-friendly power.
Every state is different, and every utility is different. Understanding the rules is the first step to successfully installing a profitable solar system — so check references carefully when you're choosing a solar installer and, hopefully, you'll pick us.
Contact us today to learn more about our solar solutions for your home or business.