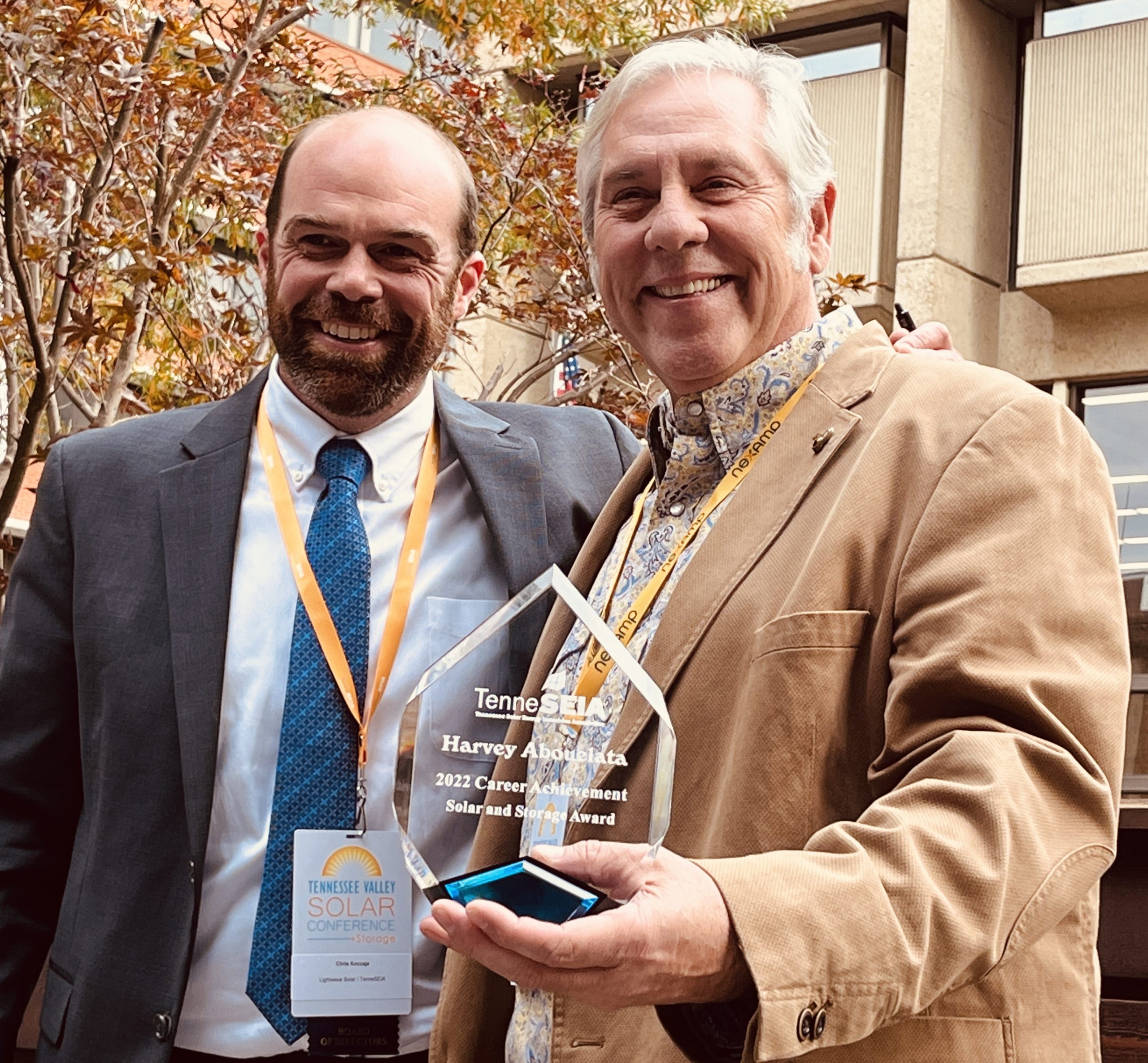 Last Updated on December 28, 2022 by Anne Brock
Solar Alliance Vice President Harvey Abouelata has been honored as a 2022 recipient of the Career Achievement Award, along with two industry colleagues, by the Tennessee Solar Energy Industries Association. He received the award during a reception at the fall conference in Knoxville called Tennessee Valley Solar Conference + Storage.
"My wife said, 'you gotta get a job'…the next thing I know, I'm in the solar business. It's not just about solar. It's about making it all work through the policies, through the finances, through the relationships," said Abouelata. The husband and father of two noted appreciation for his family, community, clients and colleagues throughout the industry.
A History of Industry Leadership
Abouelata was a charter member and organizer of the Tennessee chapter of the Solar Energy Industries Association back in 2010. He was previously recognized in the greater Knoxville community for his entrepreneurial spirit, earning the Traction Award in 2015 for what was then ARiES Energy. He oversaw development of the state's first utility-scale community solar project at Appalachian Electric Cooperative in New Market. He brought solar to businesses in historic downtown Morristown and partnered with Wampler's Farm Sausage as they added renewables to promote their mission. He has educated for years about the benefits of USDA REAP Grants for rural businesses.
"I can't begin to express my gratitude to TenneSIEA for the Career Achievement Award in the Solar and Storage industry. Together TenneSEIA, the Tennessee Valley Authority, local power companies, the state of Tennessee and the contractors have helped create an on-ramp for businesses to advance energy independence, environmental stewardship and economic development using solar. Honestly, we are just at the beginning of a really exciting future. More and more often utilities are working alongside businesses and contractors to make clean energy work in our state. I believe we are all rowing in the same direction and that is exciting. Tennessee: where energy begins!"
Continuing Stewardship
As VP of what is now Solar Alliance, Abouelata insists on bringing a sense of stewardship and community to every project he's involved in. His mantra with clients is "evaluate, reduce and produce," showing businesses how they can profit while conserving and making clean energy choices.
Abouelata received the 2022 award along with TenneSEIA General Counsel Keith Gordon and Senior Business Development Manager John Kemp of Avangrid Renewables. The organization called them, "Three outstanding individuals who have helped forge the solar industry in the Tennessee Valley!"
Professional Affiliations
According to its website, "TenneSEIA (Tennessee Solar Energy Industries Association) is the state affiliate for the national Solar Energy Industries Association, and represents the interest of the solar energy industry in the Tennessee Valley. The mission of TenneSEIA is to is to promote the development of solar energy and complementary technologies, including storage, positioning the Tennessee Valley's residents and businesses as leaders in clean energy deployment and economic development."
Solar Alliance is an energy solutions provider focused on residential, commercial and industrial solar installations. The company operates in Tennessee, Kentucky, North/South Carolina and Illinois and has an expanding pipeline of solar projects.
For more information:
Anne Brock
Marketing Coordinator