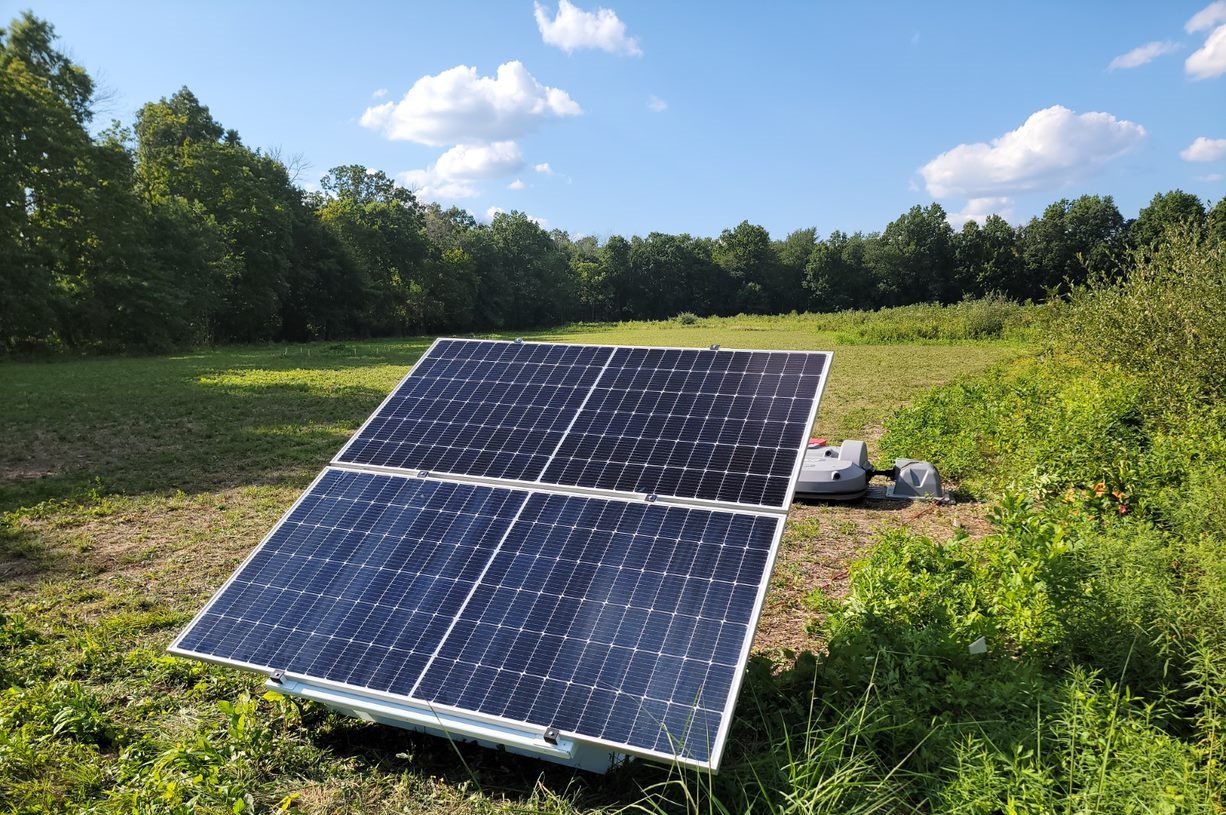 Last Updated on March 14, 2023 by Anne Brock
Powershed Use Expanding Throughout North America
Stand-alone Solar an Economical Landscaping Solution
Remote power is more reliable and economical than ever for professional landscapers from the Southeast to the Midwest and even the New England coast. Powershed by Solar Alliance is now charging robotic mowers in eight different states: New York, Connecticut, Florida, Georgia, Michigan, Illinois, Louisiana and Tennessee. The field is exponentially expanding for robotic mowers, with turfgrass covering 50 million acres in the United States, according to the National Turfgrass Research Initiative.
Powershed simply untethers robotic mowers and allows them to be sited anywhere they can capture the sun's rays. Through testing at the University of Tennessee for more than two years now, Powershed works with any robotic mower, yielding excellent results from pairings with Husqvarna, ECHO Robotics and Ambrosia. The fully outfitted Powershed consists of 880 watts of solar and 400 amp-hours of battery storage. Geography, terrain and weather all play into the performance of robotic mowers and Powershed; fortunately, we are collecting valuable data from early adopters that we can share with the world.
Just how much energy can Powershed harness from the sun's rays? Real-time monitoring provides tremendous data for regions across the country. One of our units working in Michigan will produce an estimated 1,142-kilowatt hours (kWh) annually. Our highest-producing Powershed is in Florida with an output of 1,481 kWh annually. From north to south we see about a 30% difference in production. It seems the Southern U.S. is where Powershed performs most like the superhero it is.
The biggest variables in Powershed's performance are the mower size and how often the mower needs to run. After you consider the location, terrain and how many of which mower to use, we can advise which Powershed model will be necessary to ensure your mowers perform optimally. We have had great success in multiple areas with Husqvarna running two mowers from a single Powershed without seeing the battery state of charge dip below 60%.
One of our most recent installations for Barbican Residential Services' luxury community common area in Greenwich, Connecticut highlights the opportunities now available with Powershed. An ECHO Robotics mower is performing exceptionally well there with Powershed over multiple acres and some rugged terrain, though it may need to limit its mowing schedule at certain times of the year based on weather and season. Barbican chose an ECHO Robotics TM-2000 to groom common areas for a luxury living community. The performance has been impressive with a battery charge state never dropping below 75%. We will continue to gather data on Powershed performance around the country.
A robotic mower with access to solar charging seems to solve multiple problems for our clients. We asked our customers why they chose Powershed. Their answers are consistently simple: It is more economical to install Powershed than to run electrical service to many areas. Consider: if you install electrical service to support robotic mowers, you have the additional cost of trenching, wire, labor etc. Then, on top of construction costs, you are paying ongoing fees for power. Powershed eliminates this hassle by untethering robotic mowers from the grid.
As a result, not only is it cheaper to install Powershed, but it is MUCH cheaper when you add in potential federal incentives for solar. To put Powershed cost into perspective: after incentives, the cost to produce a kWh ranges from $0.07 to $0.17. Presently, our customers are buying power from their utility from $0.10 to $0.20 per kWh, in addition to the up-front costs of electrical infrastructure. Contact us with your Powershed needs and for more details on potential incentives for Powershed end users.
Our customers have even more to say about why they chose Powershed. For many, their top issue seems to be labor reliability and shortages. Hiring enough people and finding reliable contractors can be a challenge, said David Solarz of Barbican Residential Services, who recently installed Powershed for that luxury community in Connecticut. Solarz told Solar Alliance, "The challenge of managing the common acreage involved not only the cost of gasoline, but other maintenance costs and difficulty finding reliable landscaping workers." An added advantage is getting the job done without air or noise pollution. Solarz said Powershed's remote power fits with overall sustainability goals. "Definitely Barbican's primary motivation.  We want to leave the world a better, more sustainable place."
At the University of Tennessee in Knoxville, where Solar Alliance first started co-developing and testing Powershed with former UTK Turf Manager Matthew Layne, staff and students enjoy the quiet on campus and the reduction of their carbon footprint. Layne deployed robots for mowing to allow his staff to focus on other projects. "Robotic mowers are changing the way we think about grounds maintenance and Powershed is supplying the fuel."
This technology is patent-pending, thanks to support from the innovative team at UT Research Foundation. Dr. Maha Krishnamurthy, UTRF Vice President said, "This is an example of UT's innovation and license partnership with forward-thinking companies like Solar Alliance making an impact!"
The aim is to fully automate the lawn-cutting process. "We see the combination of Powershed and robotic mowers as a win all the way around," said Solar Alliance Vice President Harvey Abouelata. "Powershed removes the barriers to robotic mowing. For instance, if you wanted a robotic mower to trim the median of a highway, how would you get power there? In the future, cars will whiz by discreetly operating robotic mowers at 70 MPH; unlike today, when staffed mowing work zones include inherent risks to drivers and workers. Powershed makes it possible to tackle your toughest safety concerns about labor with robotic mowers."
In the Midwest, Joe Langton, President at Langton Group, CEO of Automated Outdoor Solutions, and Host of Automating Success Podcast is very matter-of-fact about Powershed filling an industry need, "Right now as larger 'leave on site automation' comes to market, larger amperage supply solar stations will be needed. AOS is quickly becoming known as the service model automation solution and great solar solutions are yet another thing we feel we will need to put into that service model platform. Solar Alliance units offer us the ability to do that with their ability to report back information about what the solar solution itself is doing. I have not seen anything else like this in the marketplace, and that's why AOS believes Solar Alliance's solution can help us continue to lead in the Robotics as a Service (RAAS) market with innovation in service model solutions."
When you consider today's challenging labor market, gas prices and other inflationary forces, demand for less disruptive and noisy lawn care – along with concern for safety and reducing your carbon footprint – Powershed plus a robotic mower could be the solution to multiple problems. "Powershed is revolutionizing the robotic mower industry by allowing these units the freedom to operate anywhere the sun shines," said Layne.
"The market size is staggering; it does not take much imagination to figure out that a cost-effective power solution can untether the constraints of robotic mowing to support business and stewardship at the same time," said Abouelata. "When Matthew Layne first came to us with the need for Powershed on UT Campus, he recognized the need for a solution that transcends today's work challenges and could preserve a greener way of life for years to come. As a result, we have Powershed and it works!"
*Ask us more about how Powershed can work for you. For assistance on usage and pricing, connect here.