Summer heat or winter storms can stress the power grid to cause outages – leaving hundreds or even thousands of people in the dark at one time.  How can you protect against this?  Generators help you prepare for that down time by being ready to back up critical household appliances, your heating/cooling system and even special medical equipment.
We are your authorized Generac dealer, plus we can install generators either alone or as part of an overall microgrid system that give you more safety, security and energy independence.  Ask us how solar modules with battery storage could add another layer of protection and work in coordination with your backup generator.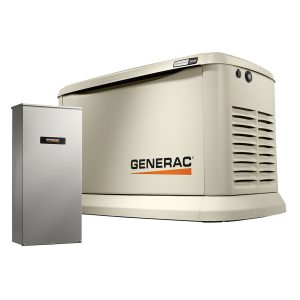 How Does a Generator Work?
Generators automatically disconnect your home or building from the utility lines when power fails. This protects your building from violent power surges, spikes, and blowouts.
Why Should You Invest For Your Home?
Portable Power – When your power goes out and you require power, a portable generator will provide you with supplemental electricity. Portable generators run on gasoline, diesel, or propane and include electrical outlets for charging devices.
Don't Let Your Food Spoil – Your refrigerator and you freeze contain hundreds of dollars worth of food. Eliminate the stress of restocking your fridge following a blackout or a catastrophic event.
Run Your Business From Home – When running a home business a power outage could mean a complete shutdown, as well as lost documents and work. It is essential to have a portable generator so that you can continue to run your Wi-Fi, printer, lights, etc.
You Rely On Electric Medical Equipment – Heart monitors, oxygen tanks, rechargeable power chairs and more all depend on the availability of electricity to run. Plan in advance and save a life; a portable generator and an extension cord allow you to switch to your alternate power source at a moment's notice.