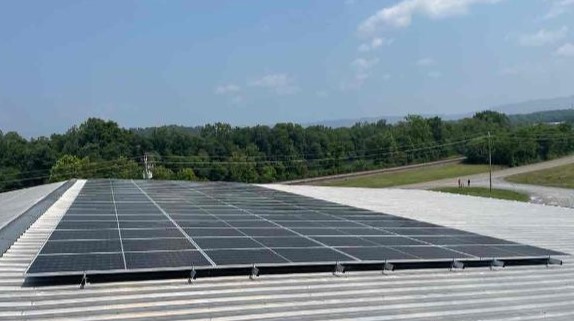 Newport, TN
Annual Carbon Offset
37.2 Metric Tons
Annual Energy Produced
52,525 kilowatt hours
Sunshine Powers Moonshine at Ole Smoky Distillery Warehouse! Shine Responsibly® is inspiring another meaning for award-winning Ole Smoky Tennessee Distillery.  Now the popular moonshine maker is tapping into the power of sunshine to offset a portion of utility expenses at its warehouse in Newport, Tennessee.
Just as Ole Smoky leads the way with evocative new moonshine flavors and a variety of distillery settings, it is also showing environmental leadership with solar. Solar Alliance Southeast designed and installed the 40-kilowatt system atop Ole Smoky's warehouse roof in 2023. This is estimated to produce enough electricity each year to offset 37.2 metric tons of carbon emissions, while saving the company thousands of dollars on electric bills.
Like many solar clients in Tennessee, Ole Smoky wanted Solar Alliance to size its system to maximize consumption while staying within a reasonable time for return on investment. All the electricity that the array of rooftop modules produces is converted from DC to AC power to be used immediately at the busy warehouse facility.
Staying connected to the main power grid was also important to Ole Smoky management, continuing to count on Newport Utilities for a large portion of its electricity needs.  Newport Utilities was noted for its cooperative efforts in helping both the owner and installer move smoothly through the interconnection process.
"It's satisfying to see clients enhance their energy mix while trying these innovative ideas in cooperation with the local power company," said General Manager Jon Hamilton at Solar Alliance Southeast.